Facebook is a very famous and most liked social media platform that allows people to connect worldwide but Facebook sucks for some reasons. Facebook has integrated the latest technologies for users like support for sharing images, audio, video, and many other modern sharing tools with fewer features.
It's a way to communicate with friends, family, and colleagues and always stay connected. It provides access to entertainment, and it is a means to learn, meet new people, and explore.
Facebook provided an atmosphere for all people to connect and share almost everything. It also created security concerns and problems for users who run business and personal Facebook pages with time.
Therefore, now people have started switching to other social media platforms that value personal and business aspects due to rising issues. Also, these issues are responsible that Facebook sucks.
Top 6 Reasons Why Facebook Sucks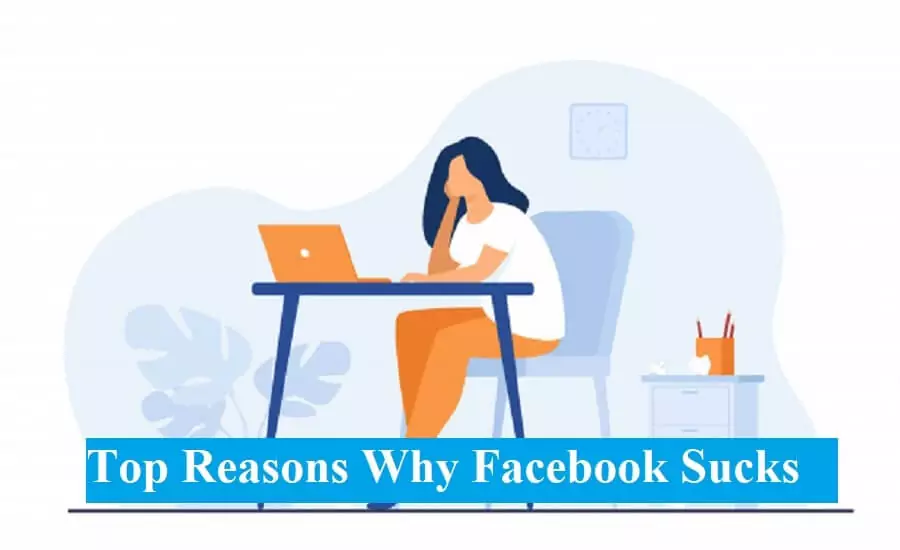 Here are the top 6 reasons you should be aware of why Facebook sucks and has made our life difficult, destroyed our social life, made us far from each other, and have given us the gift of health issues.
1. Absence of Customer Care
Like other companies that provide services for the benefit of people who use their platform to connect with the world, they offer help in customer care. Customer care provides a solution to the problems faced by users and also guides them accordingly.
Facebook sucks because there is no customer care service to guide and support the users. The information for troubleshooting provided on Google is inadequate to solve the issues, especially for new users.
2. Account Restoration Problem
This issue is highlighted nowadays that once your account is blocked or deactivated your account, it cannot be restored. Even if you have 10,000, 20,000, or 100,000 followers, they will block your account for a single thing that does not support their business and earning purpose and put your efforts of years and months in the bin.
It is the reason that Facebook sucks. They do not care for the customers' requirements but care for their benefits and business.
3. Insufficient Security
It is essential to make your account on a social media platform to secure your personal information, business, and posts.
Facebook sucks because it does not safeguard the users' personal information/identity. Facebook was also penalized for providing users' information to third-party agencies without taking users' consent.
4. Posts Issue
You can't know that who has seen or read your post on Facebook. Sometimes, followers do not read the posts, and you cannot make sure that your post has reached all your followers. Therefore, fans and followers would not be engaged with you on Facebook even though they are 20,000 or 200,000.
5. Detailed Personal Information
Facebook asks for detailed personal information, personal ID number, and personal picture. This demand is unjustified. As we all know, providing detailed information about you on social media can be unsafe and can create cybersecurity issues, so this criterion of Facebook is entirely illogical because it is not a bank account.
6. Misuse of Time/Money/Health
In terms of time, Facebook is just useless and a waste of one's time and effort. It is a time-consuming platform from which we cannot get the expected benefits.
In terms of money, it is not a reliable source of earning and making a good profit as it is full of scams, frauds, hackers, and virus attacks.
In terms of health, it has adverse effects on mental and physical health. The risk of obesity and sleep disorder can increase by Facebook addiction. Facebook has become dangerous for individuals suffering from depression, stress, suicidal tendencies, and anxiety.
Final Words
It is essential to understand the vulnerabilities of Facebook that are setting new trends in the world. We must educate our generations about the negative impacts of using Facebook for business and personal use and make them aware of the risks associated with its use.
Hopefully, now you must be aware of the reasons why Facebook sucks.