Digital marketing is the marketing through which we can advertise the products and services digitally. This type of marketing allows us to understand the audience in a better way. Digital marketing would also show advertisements of marketers to people based on their actions and preferences on the internet.
The person who manages oversees the online business management strategies, and runs all the marketing campaigns successfully in the digital world is known as a digital marketing manager.
Digital Marketing Manager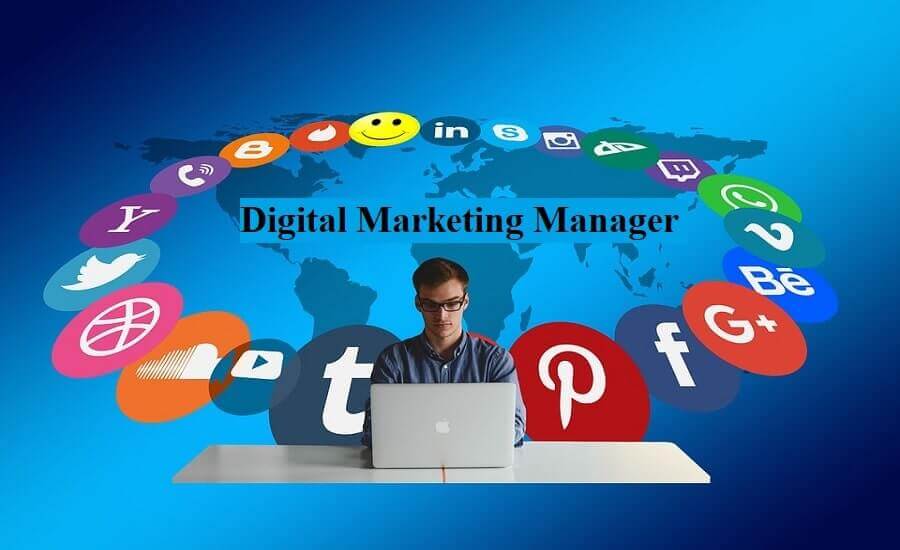 A digital marketing manager is also called a growth hacker. The job role is to generate traffic on the website of the organization. The highest number of visitors on the portal will lead to higher sales inquiries which could well culminate into revenue generation.
If the organization has a presence on social media then the specialist needs to work towards generating visitors' subscribers on Facebook, Twitter, Instagram, and YouTube. Popular companies and social media have a higher recall during making a purchase both online as well as offline.
The use of chat sites is growing rapidly so, a digital marketing manager has to explore all possible online channels to generate sales inquiries through promotions on WhatsApp, Snap chat, and other social media groups.
One of the key activities of this role is to keep track of competition through rigorous online research. Presently, companies are launching new and innovative products rapidly which are required to be shared with the organization's leadership to ensure timely decisions and business advantage.
It is also important for a manager to know about the overall performance of the company's website. Google and analytics generate reports with key indicators and these need to be regularly shared by the digital marketing manager with the decision-makers.
3 Essential Skills For a Digital Marketing Manager
Following are the essential skills required to be a digital marketing manager:-
Align the Efforts: For a digital marketing manager, it is very important to align maximum efforts to the overall business objective.
Production of Maximum Benefits: Once alignment of objectives is successfully achieved, then maximum revenue for the organization is to be generated.
Proper Understanding: It is critically important for a digital marketing manager to understand how to reach & operate the digital channels, interacts with each other, and the synergies that can be created.
Top 5 Responsibilities of a Digital Marketing Manager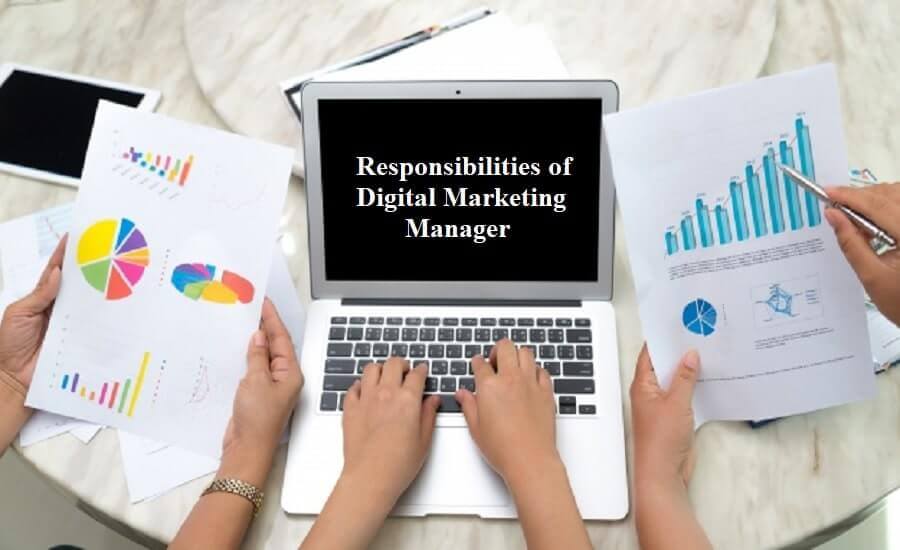 A digital marketing manager has to perform various tasks simultaneously. The key responsibilities include the following:
1. Development & Management
A digital marketing manager is responsible for developing and managing several marketing campaigns for the fulfillment of the goals of the organization.
2. Marketing strategy
They need to create a marketing strategy that is based on analyzing the competition as well as the benchmarks within the industry.
3. Website Traffic
The responsibilities of the digital marketing manager also include; driving website traffic, working to generate more traffic regularly, and improving digital marketing performance.
4. Performance Monitoring
They must be able to skillfully utilize the tools available for web analytics and use those tools for the measurement & enhancement of the campaign launched, follow up the progress, and implement the changes if required.
5. Brand Awareness
Enhancement of customers' knowledge regarding the products and services for which a digital marketing manager works is also a key responsibility of this role. It is required by him/her to provide all the possible information of the brand to the users and customers to encourage sales.
How to Become a Digital Marketing Manager?
To become a digital marketing manager you need an accurate understanding of certain skill sets including:-
SEO (Search Engine Optimization).
SEM (Search Engine Marketing).
Social media marketing.
Email marketing.
Content marketing.
Mobile marketing.
Affiliate marketing.
Search Engine Optimization
If you want to become a digital marketing manager then you have to learn SEO. It is the process of improving the standard/status of the organic traffic.
The organic traffic arrives at your website without looking for the paid advertisements and the reason behind this is that your website can be seen among the first few search results when users/customers search for it by using any medium, like Google.
Search Engine Marketing
It is the practice of marketing a business to attract users to your website/product by using paid advertisements on search engines and other websites.
To do this, you must understand your goal, define your budget, chose relevant keywords, bid on the keywords, create a compelling headline for your campaign, and target your audience correctly.
Social Media Marketing
This type of digital marketing revolves around the promotion of your products and services on different social media platforms using different types of content.
To do this, you need to choose the suitable platforms, find your target audience, create/curate engaging content, choose a social media management tool, and evaluate your results regularly.
Email Marketing
Email marketing is the best way to convert prospects into customers by sending personalized emails to a targeted audience.
To do this, you need to discover the audience, select the type of campaign, chose a suitable campaign design, create a subject line, schedule an e-mail, and measure results to optimize your campaign.
Content Marketing
Content marketing is a technique of sharing valuable content digitally. It could be in the form of blogs, videos, and articles that solves the problem of the target audience. This holds their attention by adding value to their lives and end up converting their interest into a purchase.
To do this, you need to define your goals and target audience, determine the type of content you want to create, brainstorm content ideas, perform a content audit, and choose a suitable content management tool or system.
Mobile Marketing
Mobile marketing enables business communication with the targeted audience through any mobile device. It could be through SMS, e-mail, MMS, and so on.
To do this, you need to create mobile buyer personas, set your business goals, conduct a campaign, reach your target audience, and monitor mobile metrics at regular intervals.
Affiliate Marketing
To become a digital marketing manager you need to learn affiliate marketing. In this type, an individual pays a commission to the affiliate who could be a third-party site or entity to drive sales, bring leads, or new customers with help of reference.
You need to have a tool to find affiliates that can advertise your product, specify the format you would like to use, keep a record of customers, and pay the affiliate based on the already decided commission rate.
Final Words
From the above discussion, it can be concluded that the job of a digital marketing manager is very interesting yet challenging in any competitive business.
This job role contains many business benefits and professional values and is one of the rapidly growing domains in the current fast-changing business environment.
The concept of digital marketing management is a broader term but we have tried to compress it to make you aware of the responsibilities, and essential skills that you need to have to become a successful digital marketing manager.